The touchception event on Monday Night Football created an immediate reaction on the social sphere of the internet. Yeah…Duh… not only was the catch creating waves but Green Bay O-Linemen T.J. Lang broke the twitter retweet record by several thousand within 36 hours. The total retweets continues to grow but as of earlier today it is at 96,340 retweets. Go check out this article giving you a much more intellectual look at what happened and although it does bring up Justin Beiber it is fairly intriguing.
As a football fan and fantasy football addict I must say that this whole thing crashing down on the NFL is just killing me. This past weekend I was at the 49ers Vikings game where I, along with thousands of other fans in the stands, sat for nearly 20 minutes waiting for the replacements to figure out if Toby Gerhart had actually fumbled the football or not. (Apparently he did but who really knows these days) Seeing ball placement off by several yards, essentially 5 time outs called in the second half by one team, and touchceptions becoming football reality I am so overjoyed by the return of the regular referees. While there have been times where the regulars have made pretty major mistakes the other option is much worse. Cheers to the replacements but….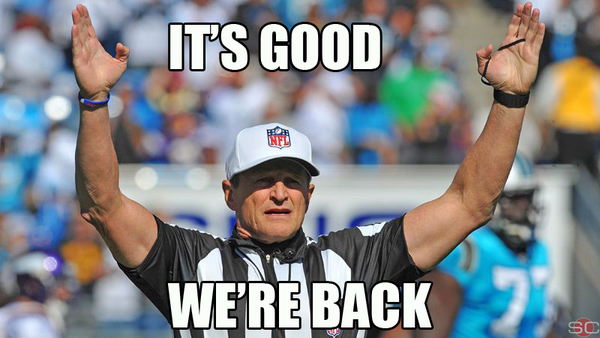 With fantasy football the call last night definitely changed a few outcomes for those who started the Packers defense because in standard leagues the D-fense would have scored 11 points instead of 5.  I know that many people are kicking themselves for drafting Aaron Rodgers with their first pick because of how terrible he has started out but honestly I think that this past game will light the fire of their offense and they will work even harder to ensure that they are never again in a close game situation. Don't fear Rodgers fans he will be back on top. Be sure to check back by the end of the week for the MUST START players of the week. With that inspirational message here are some of the best Memes I could find about the replacements. ENJOY! 
Let me know what you think in the comments below!